Opportunities
Social Opportunities.
Any organisation seeking a home for Social Nights in a welcoming Lounge are requested to approach us to discuss the opportunity.
Business Opportunities Directory.
This Directory is for members and associates of the Club to advertise their businesses or services. If you have a business or service that you would like to advertise here, please contact the Secretary using the club e-mail address, info@greatbarrcons.co.uk with your details for inclusion. In addition Local Businesses are encouraged to include their Company Information to introduce themselves to our Members.
It is anticipated that inclusions to the Directory will be those providing competitive advantages to our Members.
-------------------------------------------
Company Inclusions To-Date as follows:-
- Central England Co-operative Travel, 608 Walsall Road, Great Barr B42 1EZ.
Central England Co-operative Travel in Great Barr, offers a wide choice of holidays at fantastic prices. They are totally committed to help holidaymakers make an informed choice on holidays that they book with them.
As a holidaymaker you can choose to book your whole holiday with them or just the bits that suit you best from a wide range of holidays, including package holidays in the sun, tailor-made holidays, UK and European city breaks, cruises, ski and coach holidays.
What's more you can choose to book holiday extras with them too and make big savings on car hire, airport parking, airport lounges, resort excursions, travel money, insurance and attraction passes.
Don't forget you can earn Co-operative membership points on all bookings (excludes Latitude insurance and travel money). Members please note that any negotiations further to the prices on offer will only be considered with the showing of Membership Cards. Ask for Lisa and take it from there. Good Holidays.
Recent Specials:-
Just in.
Co-Op special offers for August to December. Members should visit Co-Op and produce your Membership Card to Lisa.
Saga ocean cruise
CALLING AT…
•_Southampton, England •_Funchal, Madeira
•_Santa_Cruz, La_Palma •_Santa_Cruz, Tenerife
•_Las_Palmas, Gran_Canaria •_Arrecife, Lanzarote
•_Lisbon, Portugal •_Southampton, England.
Cruise_code:_P2183.
INCLUDING…
Return chauffeur service to the port or free car parking
Optional travel insurance and additional cancellation rights, or a reduction if not required.
A choice of wines at lunch and dinner
All gratuities on board
24-hour room service
Complimentary Wi-Fi.
Autumn in the Canaries
Departing: September 24,2017 aboard Saga Pearl II
Private chauffeur service up to 75 miles each way or shared chauffeur service from 76-250 miles - ask for further details. A reduction of £70 applies if you do not need the optional travel insurance and additional cancellation rights - ask for details. Fare is per person based on two people sharing an Inside Guarantee where you will receive your cabin number at embarkation or shortly before sailing and not at time of booking. Your cabin may be located anywhere on the ship and twin cabins may have two single beds or one double, further terms and conditions apply. Fare was correct at the time of going to print and is subject to availability and change. Please ask for details of the cabin guide and deck plans. Terms and conditions apply. Saga Holidays are for anyone aged 50+. A travel companion may be 40+. Saga Holidays is a trading name of ST&H Ltd (registration no. 2174052). ST&H Ltd and Saga Cruises Ltd (registration no. 3267858) are subsidiaries of ST&H Group Ltd (registration no.0720588). All three companies are registered in England and Wales. Registered Office: Enbrook Park, Sandgate, Folkestone, Kent CT20 3SE. With respect to general insurance products sold in the UK, ST&H Ltd is an appointed representative of Saga Services Limited, registered in England and Wales (company no. 732602), which is authorised and regulated by the Financial Conduct Authority.
NHL-CC5693 (March 2017)
Ask inside for details.
Other Holidays for Saga as Follows:-
- A Taste Of The Greek Islands - GREECE Escorted Tour - 14 Nights - Oct 10th 2017.
Contact details are as follows : Tel number 0121 357 3500
Email : travel.greatbarr@centralengland.coop
Website : www.co-operativetravel.co.uk
Other Recent Offers Are as Follows:-
- 121 night Grand Circumnavigation of the Globe
Columbus departs London Tilbury 5th January 2018- (See Brochure In Club Notices or Call Co-Op Directly for More Information)
- Twelve offers from 'SuperBreak 'contained in Three offer categories:-
1/.London with a Capital SUPER.
2/.Great UK Super Deals
3/.Be an Overseas Explorer in 2017.
- All Quiet On The Western Front. - 2017.- 4 Days From £279
------------------------------------------------------------------------------------------------------
- Beacon Auto Spares and Beacon Pet Aquaruim.
We welcome to our Opportunities Section Beacon Auto Spares and Beacon Pet Aquaruim. Both are situated at 59 and 61 Sundial Lane Great Barr and owned by our very own Member Bob Bayley (Pet Shop Bob). Both offer a wide selection of products which can be viewed at the Websites:-
www.beaconautospares.com / www.beaconpetaquarium.com
OR e-mail at:-
beaconautospares@hotmail.co.uk / beaconpetaquarium@hotmail.co.uk
Listed below is a small extract of their product range from both Websites. Bob is offering our Members a 10% discount on production of your club card for Motor Spares purchases above £10 and for Pet Shop purchases above £20. ( Excludes Bulk Foods ).
We recommend you go along and happy shopping with the discount offer available.
- CAR PARTS.
Having been established for over 30 years now, we have gained a first class reputation for offering a vast range of parts at the most reasonable of prices, and all in a friendly and professional manner.
We hold a tremendous amount of knowledge when it comes to cars and parts - if you have any queries we will be happy to talk them through with you and to find a solution!
Whatever you require, make sure you give us a call or come down in person, and see just what we have on offer.
We stock:
Alternators Starters Batteries Pads Shoes Oil Filters Steering and suspension parts Pumps Brake Pads, Shoes, Discs, Wheel Cylinders, Calipers, Batteries, Filters, Oils, Belts, Thermostats, Water Pumps, Wheel Bearings, Rad Caps, Ignition Parts, Spark Plugs, Steering and Suspension, Cables, Clutches, Radiators, Bulbs etc.
Manufacturers products include: Apec, Trupart, Brake Engineering, Delphi, Schnapp, Fram, Quinton Hazell, Gates, Dayco, Firstline, Valeo, NGK, Carlube, Comma, Valvoline, Castrol, Lucas etc.
Accessories We also offer a range of car care products and accessories including: Polishes, Paints, Fuel and Oil Additives, Sealants, Gaskets, Mirrors, Audio Equipment, Screen Wash and Cleaners, Tools, Air Fresheners, Anti-Freeze, Underbody Sealants, Towing Equipment, Car Manuals, Seat Covers, Mudflaps, Car Security, Body Fillers, Interior Cleaners, Axle Stands, Trolley Jacks.
Manufacturers products include: Car Plan, Turtle Wax, Mer, Armorall, Simoniz, Hycote, Laser, Draper, Ambi-Pur, Bluecol, Summit, Wynns, Redex, British Gaskets, Waxoyl, Tetraseal, Hammerite, Haynes etc.
- PETS SECTION.
Welcome to Beacon Pet Aquarium - the best choice for pet shops in Birmingham. We recently celebrated 30 Years of Pet Shop Business and featured in a local newspaper with the following article:-
Albino frogs and kissing fish – the wonderful and weird world as Great Barr Pet Shop marks 30 years.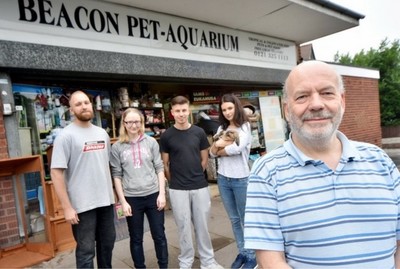 A SHOP which has served the people and pets of Great Barr is celebrating three decades in business.
Beacon Pet Aquarium, situated on Sundial Lane, houses more than 2,000 fish and has pets such as budgies and gerbils – being the go-to place for pet-loving residents in the area.
Speaking to the Observer about the shop's milestone, owner Bob Bayley – who opened the shop back in 1986 with late wife Ursula – said: "We are so grateful for the support of customers, old and new, over the last three decades.
"To some of our regulars we have become known as the Tardis or Aladdin's cave due to the large amount of stock kept in a very small space."
Bob, 63, added: "You have to have a love for animals and their wellbeing or you would never get involved in this sort of job or business.
"Even on days when the shop is closed we still have to be there to check and feed the livestock."
There are around 100 fish tanks at Beacon Pet Aquarium, housing all sorts from pink kissing fish to albino frogs and yellow-bellied turtles.
"Although most of our fish are not obscure we have had unusual ones such as piranha, pacu, arrowana, archers, red tail cats and many of the different plecostomus species just to name a few," added Bob.
"The fish come from all around the world but the majority are shipped through Singapore which is a sort of fish warehouse."
Bob, who takes more of a back seat nowadays, leaves the running of the pet shop to his son Iain and dedicated staff members Amy Pinfield, Matt Hankin, Courtney McMaster, Bella MacAdams and Josh Steel.
"We have served thousands of customers over the last 30 years," added Bob, "many of whom keep coming back and are more like friends to us.
"So, here's to the next decade!"
End Of Article.
Our store stocks everything for all of your pet and aquatic requirements. We have many assorted tanks of tropical and cold water fish, as well as plants, pets and pet food. If you would like to find out more, please don't hesitate to call us today.
From ponds to hutches and cages, look no further than Beacon Pet Aquarium. We cater to all of the general public who are looking for pets or pet supplies. We stock quality products and animals, so you can rest assured that you are in safe hands when you choose us.
We sell a wide range of items, including:
Hutches- Cages- Tropical Fish Pond Fish Medication -UV Lamps- Pumps and Filters- Birds- Rabbits -Guinea Pigs- Reptile Equipment- Poultry Accessories- Budgies -Canaries -Cockatiels Finches- Quail- Dwarf Lop Eared Rabbits- Netherland Dwarf Rabbits- Mini Lop Rabbits- Rex Rabbits- Dutch Rabbits -Smooth Haired Guinea Pigs- Teddy Guinea Pigs -Peruvian Guinea Pigs -Roboroski Hamsters -Winter White Hamsters- Syrian Hamsters- Gerbils- Stick Insects- Giant African Land Snails- Bird Tables- Feeders Food Treats- Nest Boxes- Goldfish- Ghost koi Mirror Carp –Sturgeon- Shubunkins- Tench- Orfe –Rudd- Gudgeon- Koi Carp- Bream- Grass –Car-p Mussels -Tetras -Cichlids –Gouramis- Livebearers (Guppies, Platies, Swords, Mollies) –Catfish- Butterflies -Elephant Nose - Parrots- Aquatic plants –Rocks- Slate- Gravel -Live and frozen food-Turtles-Axolotyls- Newts- Frogs- Lobsters- Crabs- Snails Shrimps Pinkies Furries Mice Rats Chicks Locusts Hoppers Wax Worms Meal Worms Black And Brown Crickets Vivariums- Reptile And Spider Starter Kits- UV Lamps- Heat Mats- Chicken And Duck Foods