Facilities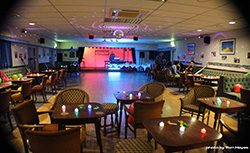 The Function Room
Our function room holds 120 and provides our Club Functions. In addition we provide Private Parties for our Members and New Party Members As Earlier outlined. If you require a Booking for the Function Room please come along to the club and discuss your needs with our Entertainment guys or our Bar Staff.
As we are closed during the day you can leave any messages on our Answer Phone 0121 357 4771 or our Mobile Phone 07376 592636. Alternatively you can e-mail the club, info@greatbarrcons.co.uk. Please look at our 'What's On' page for forthcoming events. Tickets can be reserved for later payment by use of our e-mail address. Non-Members are also welcome to join us on Club Function nights which are often run via tickets at the Bar of the club.
The Main Bar
The Main Bar is situated in the Club Lounge. We provide a wide selection of popular Draught Beers and Cider, including frequently changing Cask Ale varieties. The selection of drinks also includes many Bottled Beers, Ciders, Wines, Spirits and a stock of soft drinks, juices etc.
All our Dinks are very competitively priced and often referrred to as such by our Members and particularly Private Party guests. Visitors are welcome, an entry fee of £1 applies.
Please see our Happy Hours Drinks Offer In 'THE CLUB' Section.
DRAUGHT BEERS.
Sam Smiths Mild
Worthington Draught Bitter
Tadcaster Bitter
Madri Lager
Carling Lager
Coors Light Lager
Taddy Lager.
Guinness Extra Cool Draught or Cans.
We also provide Cask Ales which we rotate.
BOTTLED DRINKS.
Selected – Popular Bottled Drinks:-
Budweiser
Smirnoff ice
Magners
Thatchers Gold
Stella Cidre
Several Different Bottles Of Your Choice Real Ales.
AND MANY MORE
The Function Room Bar
Open on any function night and Drinks selection as in the Main Bar.
The Snooker Room
We have two Snooker tables available and the room also provides access to the main Bar. Curently the Snooker Room has restrictions clearly outlined on entry.
The Smoking Area
To cater for our members and visitors who smoke we provide a discrete smoking area outside of the club which is a popular addition to the Club, it allows smokers to socialise and smoke at their leisure.