What's On
All members are encouraged both to speak up for any sort of entertainment they would like to have and support as many Club functions as possible throughout the year. Please remember to review any of the acts using a simple Google search. As always, we ask you to obtain your tickets as soon as they are available to avoid disappointment.
All of our Functions are open to Non-Members also and Ticket Prices (Where Available) are displayed. We are hoping that 2021/2022 will see us welcoming the return of 'Showstopper Acts'as normal, post the Covid -19 situation, so please look out for the selected calendar events listed below.
For any Member or Non-Member wishing to obtain tickets for any function you can get your tickets directly from the club or call 0121 357 4771 in the open hours. In closed hours please call on 07376 592636. Mobile calls will be answered by our Entertainment Secretary Paul Jennings. Alternatively, you can e-mail:- info@greatbarrcons.co.uk stating your Name and the Number of Your requested tickets which will be reserved for two days, within which you should collect and pay. After two days without payment the tickets will be returned to general sale.
If you are a Member of any:- Football Team, Cricket Team ,Chess Group, Domino Team etc and would welcome a new home then please get in touch with us to discuss. We have the Lounge available for your social get together during mid week and we will arrange associate Membership for any group we approve to join us. Please e-mail your request for discussion on this topic to info@greatbarrcons.co.uk.
WEEK DAYS - REGULAR EVENTS BELOW:-
Monday

- CURRENTLY CLOSED MONDAYS.

Tuesday

1/.Exercise Class (FABS) - With Linda Heyes 10-30am- 11-30am - See Poster Below.

2/.Shooting Club (Bell Target Shooting .177). You are welcome to come along. (See also www.youtube.com/watch?v=AHsNYSmpteg for more information on Walton Lions and this video in our club).

Wednesday

The Return Of The Free & Easy Night - 21st July - Rob Starkey - Compere / Drums And Roger Brooking - Piano / Bass - Please note the change of time 8.0,clock to 11,30.

Thursday
Live DVD Concerts On Our Large Screen.
Friday

| | |
| --- | --- |
| | Blue Monkey Club Nights Commence 30th July (See Information Below) and Bingo Night - Please Note 9 o'clock start. |

Morning Slimming / Fitness Class.
Morning Church and Bingo Night
Forthcoming Entertainment - See Also Poster Wall Below.
Our Entertainment Secretary - Paul Jennings will Update Plans For The Future now we have received the Government freedom.
The Entertainment Secretary Dates List is Below:-
---------------------------------------------------------------------------------------------------------------------------------
Every Tuesday.
1/.Get Fit & Make Friends at a FABS class - With Linda Heyes 10-30am - 11-30am. First Class Free then £3 Entry Fee Each Tuesday.
2/. From 7-30pm to Close - Shooting Club (Bell Target Shooting .177). You are welcome to come along. (See also www.youtube.com/watch?v=AHsNYSmpteg for more information on Walton19 Lions and this video in our club)
Wednesday
Free & Easy With - Rob Starkey - Compere / Drums And Roger Brooking - Piano / Bass. Singers Welcome with Superb Musicians Rob and Roger - £2 Weekly. - 8.00 to 11.30pm.
Thursday.
Thursday Evening - DVD Concerts Playing. See Below For Details.
Friday
The Blue Monkey Open Mic Club Friday Night will return on Friday 30th July. All welcome, backline provided. Just turn up, plug in and play. No need to book a slot., £1 donation for this event.
Friday Bingo - 9 o'clock start.
See Further Details Below From Paul.
Entertainment Secretary - Paul Jennings:-
- Just a quick update on forthcoming events at the Con Club.
- We are starting a monthly Soul and Motown night. It will be run by an already established guy that goes under the name of 6x6 Club. Paul Jennings has now fixed dates for the Motown Monthly dates as Follows:-
- Saturday 28th August, Saturday 25th September, Saturday 30th October, Saturday 27th November and Saturday 11th December.
No Cd's, it is all in the original format, with different DJs.
----------------------------------------------
- Two Week Poster Of Upcoming Entertainment Includes Our 'Members Free' Entertainment Night' Saturday July 24th, In the company of DAVE DEVEREUX, see Poster Below.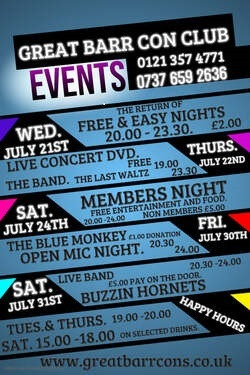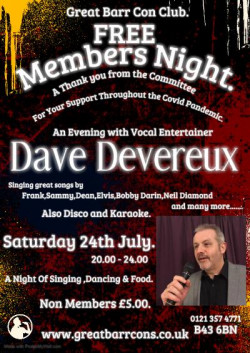 A Night Of Singing, Dancing and Food.
----------------------------------------------
- A live band closes the month on Saturday July 31st, new to the club we present The Buzzin Hornets. Americana, Texmex ,Country.
--------------------------------------
- Wednesday Night - Free and Easy with Robert Starkey and Roger will return on Wednesday's.
--------------------------------------
- Thursday Night - Live DVD Concerts are back. This includes 'Happy Hour Drinks And Free Samosas.
All Covid-19 Guidelines Are In Place.
Come Along - Thursday DVD Concerts Are Here.
------------------------------------------
- The Blue Monkey Club Open Mic will return on Friday 30th July.
- Friday Night And Sunday Night. - Bingo Nights Return with 9 o'clock start.
CONTINUED - Other live bands to look forward to in 2021 / 2022.
- Fred Zeppelin. - Sunday 5th September Afternoon.
- Ticket Information For Fred Zeppellin:-
- We have available a limited number of Tickets at £10 to purchase direct from the club week commencing 9th July. The tickets have been released to us due to the easing of Covid Restrictions and thus more available seating.
- Thirsty Work. - Saturday 16th October.
- The Schemers - Saturday 13th November.(John Taylor Charity event)
- West Coast Eagles. - Saturday 4th December.
- The Jents. - Xmas Eve.
- Mark Morriss - February 2022.
- Ricky Cool - Saturday 17th September 2022.
Ticket Information:-
https://www.wegottickets.com/event/513026?fbclid=IwAR1zwVeg27CXFM-Bs51KySfbGPg8ohu5jbA2VJWlOdHXwDHyFGQaSP5LiGk
| | |
| --- | --- |
| | Mark Morriss of The Bluetones fame playing in the intimate candlelit setting of the Blue Monkey Club .Not to be missed.Mark Morriss is a singer songwriter who famously made his name fronting English indie outfit The Bluetones. Mark fronted the four piece over a successful and fruitful 15 year period, scoring 14 top ten singles and 3 top ten albums, whilst touring the UK, Europe and Japan, before temporarily disbanding in 2011. |
- Ska Studs - March 11th 2022
- The Reggulites - June 11th 2022
--------------------------------------
We will also be hosting a General Knowledge Quiz in aid of The John Taylor Hospice on Saturday 18th September.
- We have our Member Chris Wilde with several Friday Nights already booked as per last year with Chris providing full houses on each including Quiz nights - details to follows:-
---------------------------------------
Not all events will be ticketed, some will be via wegottickets online. Those people needing tickets will just pop in the club, Pay and Collect. This process was used last year so is familiar. Any problems can be discussed via Paul or Bar Staff.
--------------------------------------
- I need to advise that the ongoing situation could all change if we receive a return to previous restrictions. For now, all events will follow on The Blue Monkey Facebook page or our Con Club Website, www.greatbarrcons.co.uk
Remember also if you are looking to book a function room for an event then contact the club on 0121 357 4771. Or through the website. www.greatbarrcons.co.uk which will contain diary dates open or closed. The website will continue to be updated for all Diary dates.
Paul Jennings. Entertainment Secretary.