What's On
All members are encouraged both to speak up for any sort of entertainment they would like to have and support as many Club functions as possible throughout the year. Please remember to review any of the acts using a simple Google search. As always, we ask you to obtain your tickets as soon as they are available to avoid disappointment. Our Members attending Functions recently will be aware of the rising numbers in our Function Room, hence the need for you to act quickly ASAP when the Posters for any evening's are on display.
All of our Functions are open to Non-Members also and Ticket Prices (Where Available) are displayed. We are hoping that 2021/2022 will see us welcoming the return of 'Showstopper Acts'as normal, post the Covid -19 situation, so please look out for the selected calendar events listed below.
For any Member or Non-Member wishing to obtain tickets for any function you can get your tickets directly from the club or call 0121 357 4771 in the open hours. In closed hours please call on 07376 592636. Mobile calls will be answered by our Entertainment Secretary Paul Jennings. Alternatively, you can e-mail:- info@greatbarrcons.co.uk stating your Name and the Number of Your requested tickets which will be reserved for two days, within which you should collect and pay. After two days without payment the tickets will be returned to general sale.
If you are a Member of any:- Football Team, Cricket Team ,Chess Group, Domino Team etc and would welcome a new home then please get in touch with us to discuss. We have the Lounge available for your social get together during mid week and we will arrange associate Membership for any group we approve to join us. Please e-mail your request for discussion on this topic to info@greatbarrcons.co.uk.
WEEK DAYS - REGULAR EVENTS BELOW:-
Monday

- CURRENTLY CLOSED MONDAYS.

Tuesday

1/.Exercise Class (FABS) - With Linda Heyes 10-30am- 11-30am - See Poster Below.

2/.Shooting Club (Bell Target Shooting .177). You are welcome to come along. (See also www.youtube.com/watch?v=AHsNYSmpteg for more information on Walton Lions and this video in our club).

Wednesday

Linda Heyes - Early Evening - Exercise.

Thursday
Live DVD Concerts On Our Large Screen - Two Per Month.
Friday

| | |
| --- | --- |
| | Blue Monkey Club Nights and Bingo Night - Please Note 9 o'clock start. |

Morning Slimming / Fitness Class.
Morning Church Group and Bingo Night
Forthcoming Entertainment - See Also Poster Wall Below.
Our Entertainment Secretary - Paul Jennings, Will Update Plans For The Future.
The Entertainment Secretary Dates List is Below:-
---------------------------------------------------------------------------------------------------------------------------------
Every Tuesday.
1/.Get Fit & Make Friends at a FABS class - With Linda Heyes 10-30am - 11-30am. First Class Free then £3 Entry Fee Each Tuesday.
2/. From 7-30pm to Close - Shooting Club (Bell Target Shooting .177). You are welcome to come along. (See also www.youtube.com/watch?v=AHsNYSmpteg for more information on Walton19 Lions and this video in our club)
Friday
The Blue Monkey Open Mic Club Friday Night Return on Friday Evening's TBA. All welcome, backline provided. Just turn up, plug in and play. No need to book a slot, £1 donation for this event.
Friday Bingo - 9 o'clock start.
Committee Thanks To Paul Jennings - Entertainment Secretary -
All our Members are familiar with our club's relationship with The John Taylor Hospice. We have won their Annual year award in the past and still have the award shield on our Bar in our honour.
Our continued effort, led by our Entertainment Secretary Paul Jennings, has again provided the JT Hospice with a recent cumulative amount of £1,185. Paul has been joined by several of our Members along the way, Tom Heyes and Chris Wilde to name two involved in our Function evenings helping along the way. On Saturday 5th March 2022 Tom and Andrew Heyes made another donation to the Hospice from their evening show for which we are all delighted. Our liaison with the John Taylor Hospice will continue.
- Update 20th July 2022. - Hi Everyone.
Please find below our club latest update for the John Taylor Hospice Donation Below. Paul Jennings delivered to the Hospice the amount below of £1,371. Our thanks to Chris Wilde who staged the evening event and as ever, Chris was at the heart of the evening.
Our Members,who have previously seen our John Taylor donations will know our superb record of donations to the Hospice. Once again our thanks on behalf of the club are with Paul and Chris.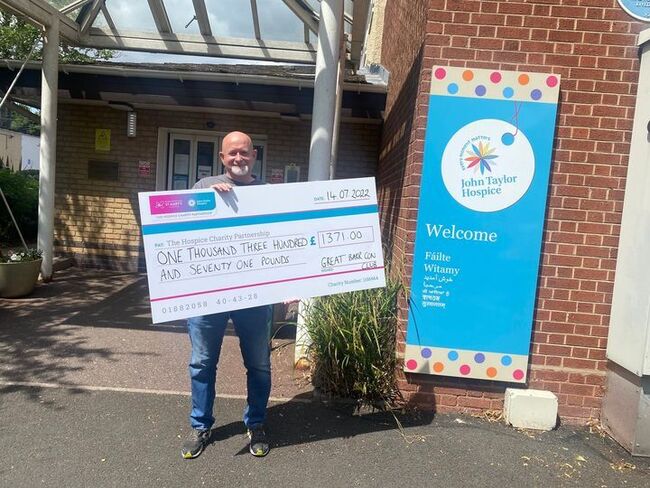 Please note, also all the details for the John Taylor Hospice connection with our club via Paul Jennings are
Detailed fully in the Great Barr Club 'FACEBOOK'.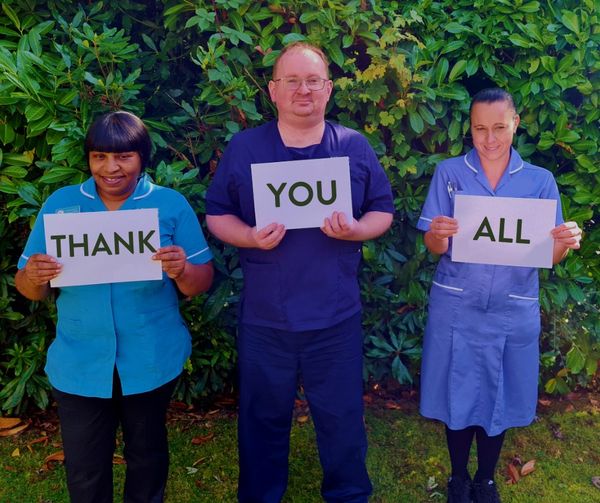 Thanks to you ALL.
We want to say a huge thank you to our supporters for their generous donations.
No matter how much you give, big or small, every pound will mean someone across Birmingham and Sandwell can receive the care and support they need.
Without your kindness we couldn't continue to do this.
From everyone at The Hospice Charity Partnership, we want to say thank you so much.
Previous John Taylor update below with Paul Jennings and Tom Heyes featuring in a previous donation. Information above.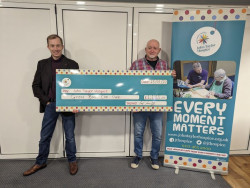 --------------------------------------------------------------
Now - Just a quick update on forthcoming events at the Con Club As Follows:- --------------------------------------
------------------------------------------
- Friday Night - Once A Month
- The Blue Monkey Club Open Mic - Please come along and enjoy our very own Committee Members and Guests superb sounds.
All this for a £1 donation. You will enjoy the quality on the night. Spread the word.
- Friday Night and Sunday Night Bingo and Raffle with 9 o'clock start.
--------------------------------------------------------------
CONTINUED:-
Live bands and General Functions to look forward to in 2022.
2022 - Events Thus Far Below:-
--------------------------------------------------------
- Artists Already Booked Below -
- Saturday 17th September 2022 - Ricky Cool And The In Crowd.
Live music returns to the Club on Saturday 17th September.
When we host Ricky Cool and The In Crowd .This live music event will include a Curry inclusive of the ticket price for the gig.
Hopefully tickets will go on sale direct from the club from Monday 15th August. Watch this page and The Blue Monkey Club music page for updates.
- Saturday 24th September 2022 - Yam Yam Elvis - Poster To Follow.
- Saturday 1st October 2022 - Thirsty Work - Poster To Follow.
- Saturday 8th October 2022 - The Black Country Beatles - Poster To Follow.
- Saturday 19th November 2022 - Lucas D And The Groove Ghetto - Poster To Follow.
Saturday 3rd December 2022 - Lack Of Commitments - Poster To Follow.
- Saturday 17th December 2022 - West Coast Eagles - Poster To Follow.
- Saturday 24th December 2022 - Christmas Eve Knoxville Highway - Poster To Follow.
- Also In 2022 - We have our Member Chris Wilde.
- Chris has several Friday Nights already booked as per last year. Chris will be providing full houses on each evening, including Quiz nights - details to follows:-
----------------------------------------------------------------------------------
Not all events will be ticketed, some will be via wegottickets online. Those people needing tickets will just pop in the club, Pay and Collect. This process was used last year so is familiar. Any problems can be discussed via Paul or Bar Staff.
--------------------------------------
- All events will follow on The Blue Monkey Facebook page or our Con Club Website, www.greatbarrcons.co.uk
Remember also if you are looking to book a function room for an event then contact the club on 0121 357 4771. Or, through the website. www.greatbarrcons.co.uk which will contain diary dates open or closed. The website will continue to be updated for all Diary dates. During all the hours of Club Closure we recommend use of the Club Mobile - 07376 592636. If your call is unanswered we will make every effort to respond ASAP.
Paul Jennings - Entertainment Secretary.